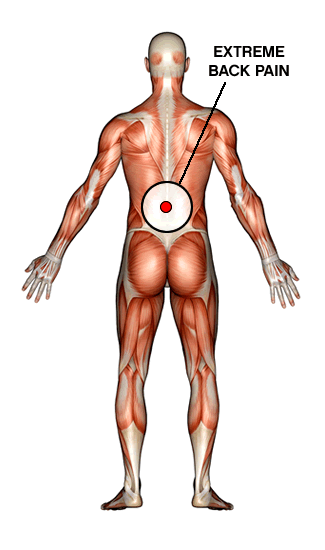 I saw Dr. Rappe in approximately October of '08 for sciatica in my left foot or left leg. I was in extreme pain and could barely put weight on my left foot or left leg. I wasn't sleeping at night, and when I did sleep, it was in a recliner chair. I was tired of epidural shots, seven in all, one of which ended in my having to go the ER because the surgeon had nicked a blood vessel and I was bleeding internally. I was tired of pills and had been told by the last orthopedic doctor he wouldn't recommend back surgery for me, that they had done all they could do, and to "live with it."
At this point, I had exhausted mainstream medical solutions to my problem. I had never tried chiropractics before. I took my x-rays and MRIs to Dr. Rappe. They revealed several problems: four bulging discs, spinal stenosis, subluxation, spondylolithesis and disc degeneration. He felt the bulging discs were my problem and were probably impinging on my sciatic nerve. He said that he could help me, but because of my extensive problems, that is would probably take about twenty-five decompressions.
About January of 2009 I completed my decompression and super laser therapy, twenty-four in all, and felt my therapy had been very successful. I was off almost all pain medications and was sleeping again at night. And I could again put weight on my left foot without pain.
My problem was not straight forward, however; when the sciatic pain was gone, there was another kind of pain presenting itself in my leg, which may or may not have been due to the arthritis in my left hip. I received four super laser therapies in the left groin and that helped enough for me to get on with my life.
During the time I was having the super laser therapy, I was seen by an orthopedic surgeon, and if I agreed, he would replace my left hip. At this point, since my leg was slowly getting better (VERY SLOWLY but going in the right direction) I wanted to explore any possibility of avoiding surgery so I again went outside mainstream medicine and am currently doing trigger point therapy. I'm in the early stages of this therapy but I'm feeling confident that in time it may help me avoid a hip replacement surgery.
Bottom line, I have definitely been helped by chiropractics in general and Dr. Rappe's treatment in particular. His office staff was professional and his treatment modalities were accurate in their assessment in treating my problems. There are many ways to solve a medical problem and sometimes mainstream medicine is not the only way to go. In closing, I would highly recommend Dr. Rappe's chiropractic treatment to anyone who I felt could benefit from it.
Lee Henry